By Caitlyn Luce Christensen  for Elite Daily
There might be some secrets hiding between the lines of Prince Harry's and Meghan Markle's body language.
The wedding announcement might not be a part of an elaborate British plot to reclaim the States, but there may be some things they're not telling us. And it's all in their body language.
In that absolutely adorable BBC interview with the Prince and Markle, best known for her role on the show Suits, after the engagement announcement on Monday, Nov. 27, we saw Prince Harry and Markle smiling into one another's eyes, holding hands, and basically looking like they were absolutely lost in one another's eyes. So does that mean this royal pairing is absolutely flawless?
With the royal spotlight blazing, camera stills capture more than what the royal family can say. Freeze-frames highlighting the way the young couple smiles, the position of their hands, and even the way they cross their legs provides some telling information about how the couple really feels about one another. Human Behavior Expert Susan Constantine-Perfido analyzed their body language in five photos and found that the two are definitely floating on a cloud of happiness about their engagement, there's more to their relationship than meets the eye at first.
1. Holding On Tight
In this photo, Meghan holds Harry's hand quite tightly, with a lot of strength and tension in her clasp, as she pulls him toward her knee.
"She's saying, 'I captured him, he belongs to me,'" says Constantine-Perfido. "She is enamored with him and slightly possessive."
2. Sticking Out Her Neck
Even though Meghan is pressing her lips together in this picture to conceal how she really feels, her body language tells another story entirely. If you think that Meghan's pose looks a little bit like a turtle in this picture, you'd be right — and that tells us a lot, says Constantine-Perfido.
"When turtles feel insecure, they tuck their head inside their shell," she explains. "Their neck pops out when they feel confident.
At the same time, Meghan's lifted eyebrows, bright eyes, and raised cheeks resemble a little kid in a candy shop. "She can't believe that this story is happening," says Constantine-Perfido. "She is massively infatuated with him."
3. Touching Her Face
Both Meghan's left and right hand are doing different things in this photograph. With her left, she is touching her face with what Constantine-Perfido says is a sign of sensitivity.
"Vulnerable women touch their face and neck with open figures," she says.
Her right hand, laced with Harry's, tells a different story, though. "Their hands are intertwined, but without so much stress and pressure as in the first photograph," says Constantine-Perfido.
She notes that the way they lean their knees into one another and position their torsos toward one another demonstrates a strong intimacy between them. And while Meghan might be feeling a bit insecure, Harry's body language is open and stretched, demonstrating confidence.
4. Gazing Into His Eyes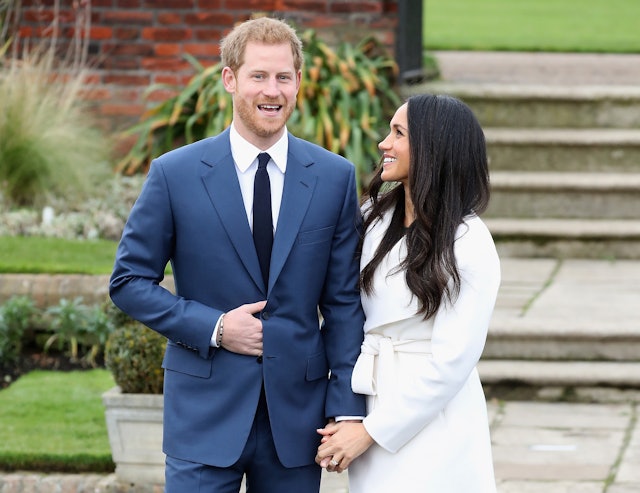 Harry could simply be unbuttoning his jacket in this photograph, but the pose also speaks of someone with dignity and higher stature. Meghan, according to Constantine-Perfido, is completely enamored of him, demonstrated by how she grips his hand and looks up into his eyes intimately.
"She's caught up and enamored," says Constantine-Perfido. "This is a new level for them, and she is hyper aware of her surroundings. She's not so much in the moment, as she is thinking of everything else that's going on."
They might be royals, but I, for one, definitely relate to how emotions rise up onto the surface of Meghan's face even when she is trying to hide them. And the giddy, awkward, childlike joy of a fresh relationship is definitely relatable, too. Whatever this couple is feeling, I hope we get to watch their unfolding happiness in the years ahead.
Watch the the BBC's full interview with Prince Harry and Meghan Markle below:
Read more: https://www.elitedaily.com/p/prince-harry-meghan-markles-body-language-reveals-some-interesting-things-about-their-relationship-6637260